Sunday, 5-June-2016
New version 3.8.5 of WordPress File Upload plugin has just been released.
This release is an important update as it introduces Bulk Actions in all file browsers/viewers of the plugin. For the moment the front-end and back-end file viewers support one bulk action, Delete. The user can select multiple files by checking the checkboxes next to each file and delete them all at once.
The admin File Browser in the Dashboard supports two bulk actions, Delete and Include. Include action enables the admin to include in the plugin's database many files at once that are displayed in the File Browser but were not uploaded by the plugin.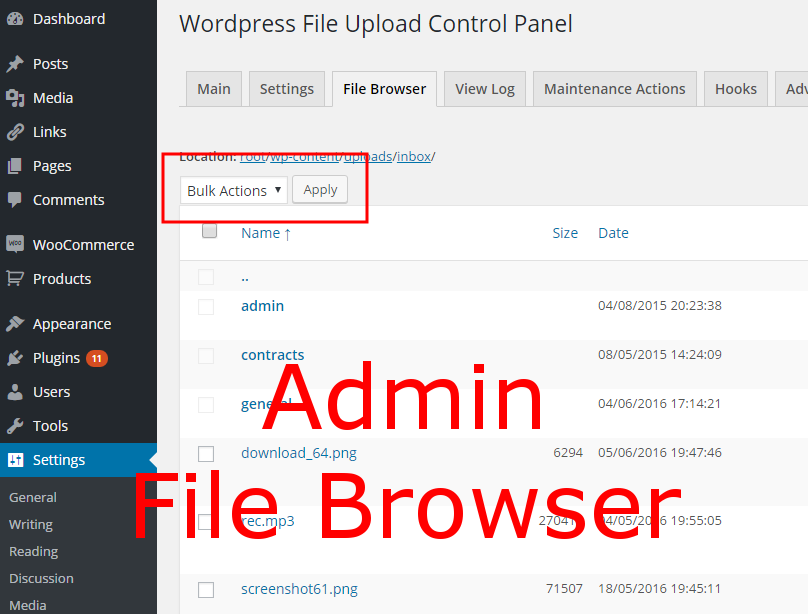 This release has also included provisions for adding a simple search bar above the front-end file viewer, so that users can narrow the file list.
This feature is experimental and not straightforward for the moment. A new article will be published the next days providing details how to create simple search bars like this.
Furthermore, this release introduces some improvements in the column sort functionality of all the file browsers/viewers of the plugin.
You can check more details in the Release Notes of the plugin's support page.
Users who have purchased the Professional version of the plugin can download the latest one by logging into their Iptanus account, selecting the order and downloading the new file. Instructions for installing the new version can be found here.
Users of the Free version can update to the latest one using the Update feature of the Plugins section of their Dashboard.
Iptanus team is constantly striving to make WordPress File Upload plugin more user friendly and more bug free, so it will continue issuing new releases. It is reminded that users of the Professional version, will have free updates of the plugin for a lifetime!!!
For any questions, bugs or information please contact us.
The Iptanus team